Source:  www.morningstarnews.org
Date:  December 27, 2022
20-year-old wounded in attack that killed her father, mother and sister.
By Our Nigeria Correspondent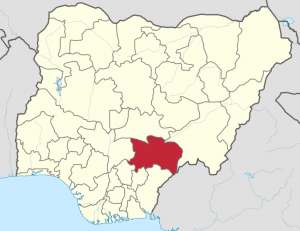 Location of Benue state, Nigeria. (Profoss, derived from original by Uwe Dedering, Creative Commons)
ABUJA, Nigeria (Morning Star News) – Fulani herdsmen on Dec. 17 killed three Christians as they worked on their farm in Benue state, Nigeria, sources said.
"The three affected victims, who were males and Christians, were killed a farm" in Adaka village, Guma County, said Paul Hemba, special adviser to the Benue state governor on security matters. "The three victims were attacked with machetes, as their corpses had machete cuts wounds. The villagers said they've recently been under constant attacks from the Fulani herdsmen."
The armed herdsmen have also been destroying villagers' crops, he said, adding, "These are some of the terrible things farmers in Benue state have been facing over the years."
Adaka area resident Benedict Ayem also identified the assailants as herdsmen.
"A group of armed Muslim Fulani herdsmen on Saturday, Dec. 17, attacked Adaka village, a Christian community which is 20 kilometers [12 miles] away from Makurdi, the Benue state capital," Ayem told Morning Star News in a text message. "The herdsmen killed three Christian farmers who were working on their farms."
In Guma County's Yelewata village, herdsmen on Nov. 29 killed a Christian, his wife and a daughter and wounded another daughter as they worked on their farm, area sources said.
"The herdsmen attacked a Christian family of four who were working on their farm," Yelewata resident Agav Ngugar told Morning Star News in a text message. "A man, his wife and daughter were killed by the herdsmen, while a fourth victim, a second daughter of the family, escaped with machete wounds."
Ngugar identified the victims as Clement Ukertor, wife Christiana Ukertor and daughter Dooyum Ukertor, 17.
"The fourth victim, Blessing Ukertor, 20, was critically injured during the attack and remains in the hospital over inflicted machete wounds," he said.
The family belongs to St. Joseph's Catholic Church in Yelewata, where Christiana Ukertor served as chairperson of the St. Joseph Catholic mission in Yelwata, Ngugar said.
Frank Utoo, an aide to the governor of Benue state, confirmed the attack in a text message to Morning Star News.
"Blessing, the second daughter who was also in the farm, was lucky to have survived with deep machete cuts all over her body," Utoo said. "She is still in the hospital and is being treated for machete cuts wounds."
Police spokesperson Catherine Anene said officers have been sent to both areas.
"Security agencies, including police personnel, have been deployed to the area to stem the tide of unceasing attacks on the communities in those areas of the state," Anene told Morning Star News in a text message.
Numbering in the millions across Nigeria and the Sahel, predominantly Muslim Fulani comprise hundreds of clans of many different lineages who do not hold extremist views, but some Fulani do adhere to radical Islamist ideology, the United Kingdom's All-Party Parliamentary Group for International Freedom or Belief (APPG) noted in a recent report.
"They adopt a comparable strategy to Boko Haram and ISWAP [Islamic State West Africa Province] and demonstrate a clear intent to target Christians and potent symbols of Christian identity," the APPG report states.
Christian leaders in Nigeria have said they believe herdsmen attacks on Christian communities in Nigeria's Middle Belt are inspired by their desire to forcefully take over Christians' lands and impose Islam as desertification has made it difficult for them to sustain their herds.
Nigeria led the world in Christians killed for their faith last year (Oct. 1, 2020 to Sept. 30, 2021) at 4,650, up from 3,530 the previous year, according to Open Doors' 2022 World Watch List report. The number of kidnapped Christians was also highest in Nigeria, at more than 2,500, up from 990 the previous year, according to the WWL report.
Nigeria trailed only China in the number of churches attacked, with 470 cases, according to the report.
In the 2022 World Watch List of the countries where it is most difficult to be a Christian, Nigeria jumped to seventh place, its highest ranking ever, from No. 9 the previous year.