Source:  www.morningstarnews.org
Date:  January 5, 2023
Church leader still in intensive care after more than a month.
By Our East Africa Correspondent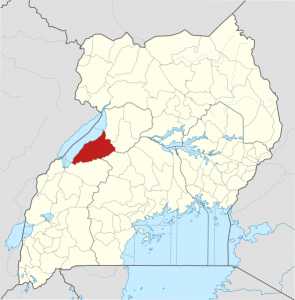 Location of Hoima District in Uganda. (Jarry1250, NordNordWest, Creative Commons)
NAIROBI, Kenya (Morning Star News) – A pastor in western Uganda remains in a hospital Intensive Care Unit after Muslim extremists poisoned him and a Christian couple on Nov. 24, sources said.
Pastor Francis Kutekereza, 51, was meeting for prayer with the couple, recent converts from Islam in Kigorobya Sub-County, Hoima District, at 6 p.m. when seven Muslims intruded into the house, said the husband, whose name is withheld for security reasons.
Led by a local Muslim extremist, the group began trying to force them to eat cooked bananas laced with a fungicide that causes ptomaine poisoning, the husband said.
"It was a real struggle in the house," the husband, 27, told Morning Star News. "Three men held the pastor, and the remaining four were on our necks. We took some little pieces of bananas before escaping, but the pastor could not escape."
Nearby neighbors joined in their cries for help, and the assailants fled after having kicked and beaten the pastor, he said.
Within three hours, Pastor Kutekereza was suffering nausea, vomiting, stomach cramps and diarrhea. The husband and his wife, 23, had the same symptoms after five hours, he said.
The couple received treatment at a Kigorobya health clinic for three weeks and were released on Dec. 14, but the pastor remains in critical condition. He was transferred to a hospital in Hoima.
"The pastor is still battling for his life in the hospital bed," said a Morning Star News contact. "He has a swollen stomach, swollen legs and swollen face that has affected his walking and vision."
Pastor Kutekereza, a married father of five children between the ages of 17 and 28, needs to transfer to a hospital with better equipment for proper diagnosis, the contact said.
The pastor had led the couple to Christ in October after visiting them several times.
"It was on Oct. 20 that we decided to become followers of Issa [Jesus] at the end of the evening prayers meeting with pastor Kutekereza," the husband said. "The pastor continued having evening prayers with us every Thursday. The neighbors who are Muslims began questioning us about the frequency of the pastor's visits to our home. We told them that he was a business partner."
On Nov. 10 at around 7:30 p.m., a young Muslim man arrived at their home and saw the pastor putting a Bible in his briefcase, the husband said.
"He later questioned us about the Bible when the pastor had left, but we kept quiet," he said. "Thereafter he left."
On Nov. 17, the pastor showed the couple threatening messages that had been sent to his phone, including one that read, "We have known that your mission at [the couple's] home is not on business but to deceive them into joining your Christian religion. We warn you to stop with immediate effect."
The husband was also threatened. He said that the leader of the group that attacked them, his neighbor, had told him, "You have been deceiving us, saying you have business planning with the pastor, but we have discovered that you have Bible study activities. This is uncalled for in our religion."
A church elder said the lives of the Christian couple are in danger unless they can be relocated, and that the pastor needs assistance with his hospital bill.
The attack was the latest of many instances of persecution of Christians in Uganda that Morning Star News has documented.
Uganda's constitution and other laws provide for religious freedom, including the right to propagate one's faith and convert from one faith to another. Muslims make up no more than 12 percent of Uganda's population, with high concentrations in eastern areas of the country.