Source:  www.morningstarnews.org
Date:  January 18, 2023
Nigeria moves up to No. 6 among countries with the worst persecution.
By Our Nigeria Correspondent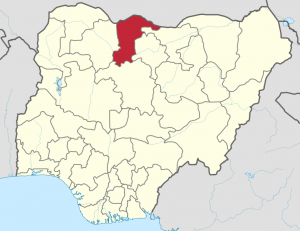 Location of Katsina state, Nigeria. (Uwe Dedering, Creative Commons)
ABUJA, Nigeria (Morning Star News) – Terrorists attacked a church service in northwestern Nigeria on Sunday (Jan. 15), shot and wounded the pastor and kidnapped 25 congregation members, sources said.
The assailants stormed into the morning worship service of New Life for All Church in Katsina state's Dantsauri village, Gidan Haruna District, Kankara County, said Gambo Isah of the Katsina State Police Command.
"A distress call was received that terrorists in their numbers, shooting sporadically, invaded Dantsauri village in Kankara," Isah said in a statement. "The terrorists shot one Pastor Haruna on his hand and kidnapped five women who were in a Sunday service in their church."
While Isah mentioned five females (including two minors) kidnapped, area residents and the Senior Special Assistant on Christian Affairs to Gov. Aminu Bello Masari, the Rev. Ishaya Jurau, told media that 25 church members were kidnapped, and that nine of them soon escaped.
Police spokesman Isah identified the five kidnapped females as Rabi Isiaku, 15; Nooseba Shuaibu, 13; Rabi Saidu, 36; Rabi Baba, 49; and Saratu Hadi, 27. He said the pastor received treatment at General Hospital, Kankara.
Area resident Francis Sardauna said in a text message to Morning Star News that the assailants arrived on motorcycles.
"Terrorists attacked a local Christian assembly…shot the pastor of the church and abducted 25 worshippers," Sardauna said.
Nigeria led the world in Christians killed for their faith in 2022, with 5,014, according to Open Doors' 2023 World Watch List (WWL) report. It also led the world in Christians abducted (4,726), sexually assaulted or harassed, forcibly married or physically or mentally abused, and it also had the most homes and businesses attacked for faith-based reasons. As in the previous year, Nigeria had the second most church attacks and internally displaced people.
In the 2023 World Watch List of the countries where it is most difficult to be a Christian, Nigeria jumped to sixth place, its highest ranking ever, from No. 7 the previous year.
"Militants from the Fulani, Boko Haram, Islamic State West Africa Province (ISWAP) and others conduct raids on Christian communities, killing, maiming, raping and kidnapping for ransom or sexual slavery," the WWL report noted. "This year has also seen this violence spill over into the Christian-majority south of the nation… Nigeria's government continues to deny this is religious persecution, so violations of Christians' rights are carried out with impunity."